Today at Vertafores NetVU Annual Conference, Surety Solutions, LLC (info.SuretySolutionsLLC.com/NetVU) announced a Single-Point-of-Entry API which syncs OneClick their online surety bond comparison application with Vertafores AMS360 Insurance Agency Management System.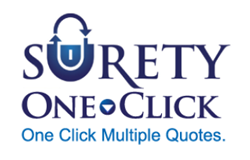 Nashville, TN (PRWEB) March 05, 2014
OneClick is emerging as insurance agents preferred method for writing surety bonds. With one application, OneClick instantly generates real-time quotes from up to 30 of the nations top surety bond companies. The agent/broker then has the ability to generate and deliver quotes to their client, secure electronic indemnity, and purchase the bond all online and in less than 3 minutes. This level of efficiency, comparative options and transparency is unprecedented in the industry.
The OneClick/AMS360 API, decreases surety bond processing time by 75%. AMS360 users can now save over 5 hrs. per surety bond through OneClick and the new single-point-of-entry API (vs. 30 applications submitted to 30 companies, a manual credit pull, triple-data entry on bond forms and in AMS360). Busy agents now have further incentive to abandon the old-fashioned surety writing process.
What this API means for AMS360 users:

Simple. Writing Surety Bonds is now easier than ever online
Time-saving. Single-point of entry cuts processing time by 75-80%
Software Automation. Data entered into either platform (OneClick or AMS360) simultaneously syncs to the other, eliminating data entry errors and duplicate entry
In the Cloud. Multiple users can access client information in the Cloud anytime and can generate reports and keep track of your client with ease on the go or over the weekend
Brett Feagans, the lead software developer for the AMS360 API stated, Our team has used OneClick for several years. We have experienced first-hand, the time-saving advancement of surety automation. Now with the new AMS 360 integration our team saves even more time eliminating a redundant data entry step. Now that the two systems Talk" to each other, our team spends less time per transaction and reduces human error all at the same time. We are excited about the system integration and new efficiencies which stand to benefit everyone involved, not the least of which is the customer.
Helen A. Lally, an underwriter with the Westfield Group commented on the industry implications of this technology stating, I have been working in the commercial surety industry for decades and have been actively searching for an agency that understands the benefits of utilizing automation and common sense in producing, underwriting and servicing this product. Surety Solutions has grasped these concepts and designed and implemented a system that is light years ahead of any other agency system that I have seen. They have clearly surpassed any other bond purchasing system in the marketplace.
Surety Solutions, LLC is planning to launch APIs for other commonly used Insurance Agency Management Systems in the coming months. These advancements will further extend the time-saving functionality for Agents writing surety bonds through OneClick. The next proposed Agency Management Systems to receive APIs are EPIC and Sagitta.
About Surety Solutions, LLC

Surety Solutions, LLC is a surety broker and digital software developer specializing in the Surety Bond Industry. Founded in 2002, Surety Solutions, LLC has simplified the surety bond purchasing process for principals, local agents, and large brokers through the first and only comparative engine in the Surety industry, a breadth of surety bond carrier relationships, and intuitive software that allowing consumers to find the correct bond, compare rates, purchase and manage their Surety Bond all in the same place.
Sponsor Website from LinkBucks with regards to BWin -
BWin
For more information, please visit http://www.suretysolutionsllc.com.
Contact

To learn more about this story, please contact:
Duke Revard, Media Relations

9400 N. Central Expressway. Ste. 305

Dallas, TX 75231

Office: (855) 371-2192

duke(at)suretysolutionsllc(dot)com
RELATED LINKS

NetVU Page: http://info.suretysolutionsllc.com/NetVU

Video: Surety Bonds Made Easy http://www.youtube.com/watch?v=whSEGLxEorw
« previous post
Law Firm Awards Scholarship to Dese...
Wettermark & Keith, LLC present their Athlete of the Year Scholarship to JaMarcus Jones of Woodlawn High School.Birmingham, AL (PRWEB) March 05, 2014 The law firm of Wettermark Keith will present a $ 3,000 scholarship to JaMarcus Jones Scott of Woodlawn High School on Wednesday March 5th...
next post »
BOOK WORMS: Do you know of any good....
For my 10th grade English class we need to read a biography or an autobiography. I have no idea what to read, but I know I dont want a story about war or anything too far in the past (history isnt really my forte). I am more interested in psychology and philosophy and stuff like that, but I a...
9 Responses to "Surety Solutions, LLC Announces Single-Point-of-Entry API for Vertafores AMS360 Insurance Agency Management System"
Posts with similar tags
No post with similar tags yet.
Posts in similar categories
About Me Sample Title
This is a sample text about you. You may login and go to the Finojaho settings page and edit this text. Here you can display a summary of your website or anything that is interesting to your visitors. You also can disable this section completely. You have full control thru the settings page.