Jackson Robinson would still be considered a rookie by some in the card design world. He launched his luxury playing card company, Kings Wild Project, less than a year ago but has already begun to revolutionize an industry where the rules are steeped in tradition.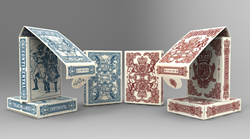 Bartlett, TN (PRWEB) March 05, 2014
Robinson came on the scene with his record breaking card project last spring called The Federal 52, a Bicycle Playing Card Deck inspired by US currency. Not only was it inspired by money, but it certainly brought in money as well. Jackson used the popular crowdfunding website, Kickstarter, to raise capital to make the project come to life. Robinson broke the current record at that time for a deck of cards by earning $ 149,156 in 40 days. Robinson then broke his own record two months later when he launched, The Federal 52 Part 2, a continuation of this series including limited edition decks snatched up by select lucky backers. Jackson finished 2013 by teaming up with the Sir Arthur Conan Doyle Estate and producing an exclusively licensed Sherlock Holmes Playing Card deck. He earned $ 100,288 via Kickstarter for this project.
Commercial AD from Tribal Fusion towards BWIN -
BWIN
While Jackson has garnered much praise from critics and peers alike, he has his sights set on something bigger. Jackson wants to be the first playing card project on Kickstarter to earn $ 1 million dollars. Million dollar earners on Kickstarter are nothing new as seen last year with endeavors from Veronica Mars and Zach Braff, but a deck of playing cards?! The current record for a deck of playing cards is $ 589,660, held by a company called Albino Dragon. Jackson knows that it wont be long before the million dollar mark is achieved by a playing card project on Kickstarter. He wants his name attached to that victory.
So has he found the perfect project to make that a reality? Jackson has a desire to revolutionize the playing card industry so what better theme for his latest deck than one based on the American Revolutionary War called The Independence. Launched this past weekend, Jackson met his initial funding goal of $ 60,000 in less than 10 hours. With over a month left on the campaign, Jackson is crossing his fingers that his hard work is going to pay off in a record breaking way. Several analytical websites have projected that Jacksons Independence Deck will top out right at $ 1 million. Needless to say, this will be a nail biting time period for Jackson, his company, and family as they watch the numbers daily while managing the Kickstarter campaign. To follow this project throughout the next month, visit The Independence on Kickstarter.
Jacksons campaign will end April 10, 2014 at 12:02 PM.
« previous post
Most effective Nine Tips and hints...
Be sure you have enough coverage to cover any gaps when you change insurance. If you cancel your old policy too soon, you are liable for any damages that occur during the gap in coverage. The flip side of this is that you want to make sure you do not overpay by having two policies at the same time. ...
next post »
Law Firm Awards Scholarship to Dese....
Wettermark & Keith, LLC present their Athlete of the Year Scholarship to JaMarcus Jones of Woodlawn High School.Birmingham, AL (PRWEB) March 05, 2014 The law firm of Wettermark Keith will present a $ 3,000 scholarship to JaMarcus Jones Scott of Woodlawn High School on Wednesday March 5th...
5 Responses to "Up and Coming Artist, Jackson Robinson, Launches Project in Hopes of Breaking Kickstarter Record"
Posts with similar tags
No post with similar tags yet.
Posts in similar categories
About Me Sample Title
This is a sample text about you. You may login and go to the Finojaho settings page and edit this text. Here you can display a summary of your website or anything that is interesting to your visitors. You also can disable this section completely. You have full control thru the settings page.